United States Citizenship and Immigration Services has announced a new Form I-9, that went into effect on August 1st, 2023. The Form I-9 is used to verify the identity and employment authorization of individuals hired for employment.
The Basics
All employers must use Form I-9 to verify the identity and employment authorization of individuals hired for employment in the United States. The purpose of Form I-9 is to establish an individual's identity and work authorization, which ensures that they are legally allowed to work in the U.S. The form must be completed for all employees, regardless of their citizenship status, hired after November 6, 1986. Both citizens and noncitizens working in the U.S. fall under the I-9 requirements. Noncitizens must have proper work authorization, such as a valid visa or employment authorization document.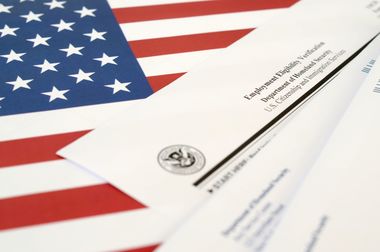 Employers must retain records of each employee's Form I-9 for at least 3 years after the date of hire, or 1 year after the date employment ends, whichever is later. Failure to properly complete, retain, or make I-9 forms available for inspection can result in significant penalties. The U.S. Immigration and Customs Enforcement (ICE) agency enforces these regulations, and penalties can range from fines, to criminal charges for severe violations.
The U.S. Citizenship and Immigration Services has highlighted that the new I-9 form includes a checkbox that employers enrolled in E-Verify can use to indicate they remotely examined identity and employment authorization documents under an alternative procedure authorized by the Department of Homeland Security (DHS). This is instead of the current requirement to examine documents in-person. To participate in the remote examination of Form I-9 documents, employers must be enrolled in E-Verify, examine and retain copies of all documents, conduct a live video interaction with the employee, and create an E-Verify case if the employee is a new hire.
The revised Form I-9:
Reduces Sections 1 and 2 to a single-sided sheet;
Is designed to be a fillable form on tablets and mobile devices;
Moves the Section 1 Preparer/Translator Certification area to a separate, standalone supplement that employers can provide to employees when necessary;
Moves Section 3, Reverification and Rehire, to a standalone supplement that employers can print if or when rehire occurs or reverification is required;
Revises the Lists of Acceptable Documents page to include some acceptable receipts as well as guidance and links to information on automatic extensions of employment authorization documentation;
Reduces Form instructions from 15 pages to 8 pages; and
Includes a checkbox allowing employers to indicate they examined Form I-9 documentation remotely under a DHS-authorized alternative procedure rather than via physical examination.
Employers can use the current Form I-9 (edition date 10/21/19) through Oct. 31, 2023. Starting Nov. 1, 2023, all employers must use the new Form I-9. If you have any questions regarding the requirements of the new Form I-9, please reach out to your LMC professional.